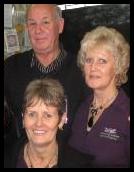 Let us introduce ourselves — John and Alice Brotherston, born in New Zealand (Alice in the North Island and John on the mainland, so he says), have spent the last 30 years in Australia having owned and operated an Ice Works and a Cold Storage Facility on the Sunshine Coast.
When we were presented with the opportunity to come to New Zealand with a range of products for the machine embroiderer, we knew it was just meant to be.
After many years sourcing and supplying my sister, Gail Jory, with products from Australia which she had difficulty finding in this beautiful country of New Zealand.
We were lucky that we both had the same interest in machine embroidery.
Gail completed her apprenticeship as a Machinist and worked in Tauranga for the one employer for 26 years so we are extremely happy to have her on board. We are sure you will all benefit from her expertise and experience with machines and the sewing world.
We all look forward to seeing you at the Warehouse or hearing from you by telephone, visiting our Website or contacting us by Email. We are sure you will find something to suit your needs at very competitive prices without having to worry about currency conversions.